Journal Homework Tasks
Throughout the semester you are going to be given a range of articles, speeches, and excerpts from historical texts to read, write about and analyse. These texts will either relate to what we are specifically studying at that point in time, or be about historical studies and events in general. You can either hand write your journal entries in your exercise book or type them up (if you are typing them, create a folder just for your journals).
No matter the text, you will have to identify the following:
Text basics




Title of text




Author of text




Name of publisher (eg media organisation, textbook publisher)




Date text was published




Type of text (eg: news article, speech, excerpt from historical text or textbook)




Whether the text is a primary or secondary source, and how you can tell




Summary of text




In 2-3 paragraphs, summarize what the main points of the text were. Use quotes where relevant, but ensure you source the quote (as in, who said it).

Historiography




Answer these questions, ensuring you substantiate/support what you're saying:

How RELIABLE is this text as an historical source? What makes it more or less reliable?




What point of view is presented? Whose is it? Is more than one point of view presented?
---
Texts
Powered by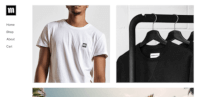 Create your own unique website with customizable templates.